MickMake Meets Robots & Dinosaurs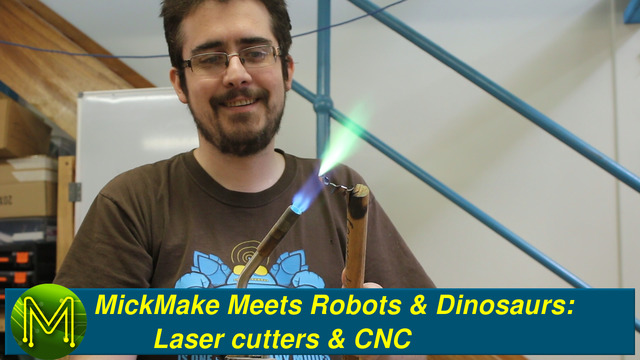 Mick visits one of Tim's old school mates, Gavin Smith, who runs a MakerSpace called Robots & Dinosaurs in Meadowbank, Sydney, Australia.
Part 1: Laser cutters, CNC and other machinery
CO2 laser cutters.
Why we can cut mirrors with laser cutters.
Materials you shouldn't use in a laser cutter, (chlorine gas).
Box creating software.
Yet another Gav & Tim story.
Various CNC machines.
Circuit board manufacture using CNC.
---
Part 2: Robots, projects, electronics and stories
B9 robot from Lost In Space.
Recycled robot.
Soft drink can collecting robot.
Book scanner.
Slow Dance prototype (Kickstarter).
3D printers.
Soldering desks.
Storage containers.
Video microscope.
Using Form Card (Kickstarter).
High intensity Xray scanners and flash drives.
Differential screws.
Organizing tools.
---
See also Dave Jones' trip to R&D.
R&D website: http://robodino.org/
Gav's personal website: https://tinkerings.org/