New Products Weekly Review: 19th February 2016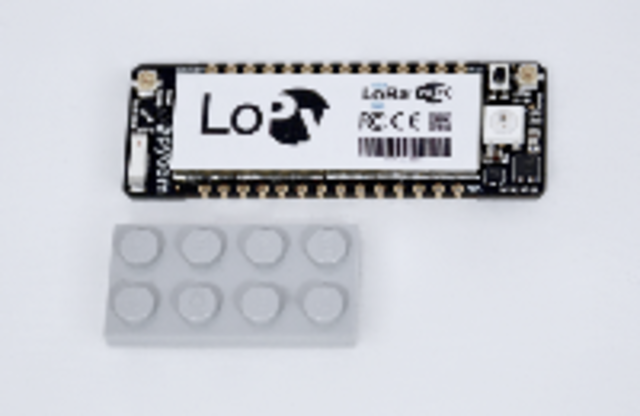 Not much happening in the world of embedded electronics, but a few surprises. There were also a couple of interesting KickStarter projects that were missed from last week that have been included. Read on…..
** electronicsnews.com.au** A new phone is set to be launched in India that is priced at 500 rupees, (US$7), called the Freedom 251 by manufacturer Ringing Bells. Not only is this a good thing for India, but if Makers can get their hand on them and they are hackable then they could form the basis of some really cool IoT tech.
arm.com ARM now has a new real time processor called, inventively, the Cortex-R8 processor aimed at tackling 5G market. This is a SoC that will "revolutionise mobile communications as it delivers the ability to increase data rates significantly, offering a far better mobile experience". It also contains low latency memory, and power efficiency upgrades that are required for the 5G market. See them late 2016. [
](http://www.newelectronics.co.uk/electronics-news/record-six-hour-flight-for-uav-powered-by-solid-hydrogen-on-demand-fuel-cell/115691/) A consortium of companies in Singapore have successfully launched a UAV called the Skyblade 360 that is capable of a 300km / 6 hour flight using a 1L solid hydrogen fuel cell developed by HES Energy Systems. This is good news for Makers looking for long-flight UAVs. [
](http://www.newelectronics.co.uk/electronics-news/microchip-launches-online-8bit-mcu-development-environment/115334/) MicroChip has now launched an 8bit MCU development environment. This seems to be a case of MicroChip saying "let's do something before our sales of PIC drop to zero". You can edit, compile and download your code onto the Xpress evaluation boards which are available for around US$10, which contain an integrated programmer, PIC16F18855 MCU, and mikroBUS header for Click board expansion. Personally, I think it might be a case of too little too late.
STMicroelectronics now has an energy efficient ARM Cortex-M4 processor - the STM32L4 family. This contains a programmably variable multi-speed internal clock, Batch Acquisition Mode(BAM) and Adaptive Real-Time Accelerator(ART Accelerator). Comes in 6 flavours: STM32L471, STM32L475, STM32L432, STM32L433, STM32L442 and STM32L443 with varying capabilities aimed squarely at the IoT market. [
](http://www.electronicspecifier.com/micros/bringing-more-efficiency-to-power-conscious-devices)
The ARM Cortex-M0+ STM32L0 family of processors are now into volume production capable of drawing only 320nA halt mode, and 3.5uS wake up from halt. Comes in various flavours: STM32L0x1, STM32L0x2, and STM32L0x3 with software development supported by the STM32CubeMX and the STM32CubeL0 middleware/firmware products.
Read on to Page 2 for KickStarter news…. This week has seen a few KickStarter projects launched that are aimed at IoT, motor controls, 3D printing/scanning, and a couple of useful embedded boards.
FDL-1
Launched 13th February 2016 on KickStarter. The FDL-1 is a 3D printed, robotic, web enabled, high powered, fully automatic, Foam Dart Launcher. Convertible between blaster and turret forms. Just the thing for someone into Nerf Wars. You have up until 14th March to get it.
Launched 12th February 2016 on KickStarter. This is a bold project essentially looking at providing an industry standard for placing controllers into electric motors that will enable communication between controllers and the motor itself, (EG forward, back, rotate, sensors, etc). Initial HW runs will provide a USB/USART based 1HP motor. This is a great idea coming up with an industry standard, but will it attract enough interest? Who knows.
qooMeter
[
](https://www.kickstarter.com/projects/701089851/cowtech-ciclop-99-open-source-3d-scanner/)
Launched 10th February 2016 on KickStarter with a strange identity crisis of either "qualMeter" or "qooMeter". This claims to be a "Smart USB Cable/Charger Tester for Dummy". Not sure who the Dummy is, but hey. It helps you diagnose issues with USB cables and chargers. It handles a wide range of input voltages and provides several output USB ports. Could be a nice addition to your test gear in your toolbox.
CowTech Ciclop
[
](https://www.kickstarter.com/projects/701089851/cowtech-ciclop-99-open-source-3d-scanner/)
Launched 12th February 2016 on KickStarter. This is something that will go alongside your $499 Aldi Printer, (if you purchased one). Essentially a 3D laser scanner for US$100. Nice. It uses 3D printable parts and will assemble in 30 minutes ready for your first scan. It is capable of scanning objects within 200mm x 200mm x 205mm in size down to a 0.5mm resolution within 2-8 minutes. Open source to boot!
ChameleonMini
[
](https://www.kickstarter.com/projects/1980078555/chameleonmini-a-versatile-nfc-card-emulator-and-mo/)
The ChameleonMini is a small KickStarter project launched on 13th January 2016 and claims to be a tool for NFC/RFID security analysis. It is capable of reading RFID tags and sniffing RF traffic. This one will be a great toolbox board for anyone using NFC/RFID in their projects. It is capable of emulating a wide range of NFC and RFID devices with an ATXMega128A4U doing all the grunt work. However this KickStarter campaign isn't as polished as others I've seen.
PiAngle Zero
[
](https://www.kickstarter.com/projects/idlehandsdev/piangle-zero-usb-power-and-4-port-hub/)
The PiAngle Zero launched 5th February 2016 on KickStarter and provides USB power and a 4 port hub for you Pi Zero. Not much to say about this, but if you need it you have until the 5th March 2016 to get your hands on it.
OSEPP 101
[
](https://www.kickstarter.com/projects/osepp/osepp-101-sensor-kit-arduino-compatible-and-produc/)
Another educational sensor board. The OSEPP 101 was launched 2nd February 2016 and is an Arduino and sensor kit providing an introduction to the world of embedded electronics. Although not as polished as the SCIO; it will provide extended programming options once you find the SCIO limited. The usual roundup of sensors are available via plug in headers, (PIR, Lux, reed switches, voltage, fans, flame, temperature). If they can provide a polished social content delivery framework like the SCIO then it might be a strong competitor.
I-SEN1
[
](https://www.kickstarter.com/projects/678204640/i-sen1-environmental-monitoring-solution-for-iot/)
Another IoT offering. The I-SEN1 is a small board providing a 4 sensors - temperature, pressure, Lux and humidity. It has a wide supply voltage range of 5 to 12Vdc - good for applications where power is not so good, or via battery, or via micro USB. However, only one option can be used at once as it doesn't have any power management chip onboard. Xbee is also thrown in to allow mesh networks, and a Wago connector. In the flurry to get the first Weekly Product Review out the door some interesting KickStarter projects were missed. So here they are…..
Pi433
[
](https://www.kickstarter.com/projects/1292669042/pi433-a-radio-module-funkmodul-for-raspberry-pi/)
The Pi433 is a small KickStarter that provides a 433MHz radio module for the Raspberry Pi.
SCIO
[
](https://www.kickstarter.com/projects/816777132/scio-the-fun-new-way-to-learn/)
The SCIO is a KickStarter project launched January 19th 2016 allowing someone with no experience in technology to create technology based projects. It is designed as a learning system platform that has many and varied projects you can try. It runs a PIC16F1459 @ 48HMz with 8K flash 1K RAM, and comes with 128K RAM Lux, 9DOF IMU, heat sensors and an array of LEDs, and buttons. A battery pack can also be fitted. Programming is done via a Windows application called MakeThreads which eases the creation of applications. This resembles my "electronics kit" I used to have in the 80s, except it has been brought into this millenium.
ThingyBot Delta 3D Printer
[
](https://www.kickstarter.com/projects/thingybot/thingybot-delta-3d-printer-0/)
If you missed the cheap Aldi printer in Australia, then this will be a great alternative. The ThingyBot Delta 3D Printer launched 9th February 2016 on KickStarter and is an open source fully assembled 3D printer. Parts for the printer aren't 3D printed so it's not self-replicating. Their claim to producing quality prints is… magnets, replacing mechanical joints with magnets. OK then. It can build objects within 150mm x 150mm x 150mm down to 50 to 300 microns resolution at 60mm/sec. US$550 will get you one of these.
USB fuse
[
](https://www.kickstarter.com/projects/885642492/multipurpose-usb-fuse/)
Launched 9th February 2016 on KickStarter. Another nice addition to your toolbox with a USB fuse that will protect from overloads or short circuits.
Xploboard
[
](https://www.kickstarter.com/projects/1549396193/xploboard-the-iot-reference/)
Xploboard was released 6th February 2016 and claims to be the IoT reference board. Comes with an ATxmega128A1U @ 32MHz providing I2C, SPI, 2xUART. Consuming only 0.05W in ultra low power mode it is capable of running for longer than 6 months on a decent LiPo. Ports are capable of delivering 1A for external components. Several interface boards are to be made available such as Xbee, BLE, WLAN, RF, LED, OLED, SD cards, ethernet, etc.
LoPy
[
](https://www.kickstarter.com/projects/1795343078/lopy-the-lora-wifi-and-bluetooth-iot-development-p/)
Launched 2nd February 2016 on KickStarter. The LoPy has micropython embedded and if they reach their stretch goal will make it Arduino compatible. These are the guys who came out with the WiPy so it looks promising. It claims to be able to connect anything to anything by providing a LoRa Nano gateway or being a plain LoRa/WiFi/BLE device. It comes in a small package, 55mm x 20mm x 3.5mm. If you include the expansion board it extends to 65mm x 50mm x 12mm. The processor is a dual core SoC with WiFi + BLE running at 160 MHz, with one processor handling network I/O and the other for applications. It also has 400KB RAM, 1MB internal flash, 4MB external flash, 24 3.3v GPIO ports, 2x UART, SPI, I2C, DMA, RTC, and I2S. Power range is 3.3v to 5.5V with up to 12mA active mode and down to 5uA standby. A rather nice little package with a lot more features. Check out KickStarter and place your order.
MicroPython on the ESP8266
[
](https://www.kickstarter.com/projects/214379695/micropython-on-the-esp8266-beautifully-easy-iot/)
Another IoT KickStarter contender. The "MicroPython on the ESP8266" launched 29th January 2016. This KickStarter wants "to make MicroPython run like clockwork on the bare metal of the ESP8266 Wi-Fi chip". The API is quite extensive, and they have reached a number of stretch goals enabling a suite of drivers for a bunch of sensors. You have until the 3rd March to back this one.
MetaWear CPRO
[
](https://www.kickstarter.com/projects/guardyen/tiny-bluetooth-sensors-so-you-can-make-and-connect/)
Do you want a small device with BLE and 10DOF IMU, temperature, Lux sensors? The "MetaWear CPRO" kickStarter launched 27th January 2016. It uses the nRF51822 soC with an ARM Cortex M0 CPU and runs off a standard coin cell battery. Of course the usual explosion of uses for this device are apparent, but at US$55 for KickStarter prices it's still pricey as a general "throw away" logger device. They also are providing open source SDKs for connecting to it.
PiJack
[
](https://www.kickstarter.com/projects/755102253/pijack-add-ethernet-to-raspberry-pi-zero/)
The PiJack is a Raspberry Pi hat/shield that adds 10Mbit ethernet capability to the Pi Zero. Not much to say about this one, but at 7 pounds for two it seems a little pricey. May as well get an RPi A. Still if you have a need for it, here it is.
Analog Expander Cap
[
](https://www.kickstarter.com/projects/795234054/analog-expander-cap-for-raspberry-pi-zero/)
In the "One You Missed" bucket is the Analog Expander Cap for the Pi Zero. It was fully backed 19th February 2016. This one comes as a kit and breaks out the analogue ports from the Pi Zero - stereo audio, composite and VGA. Would be ideal for shop front displays.