MickMake Meets: Dave Jones / EEVBlog - The interviews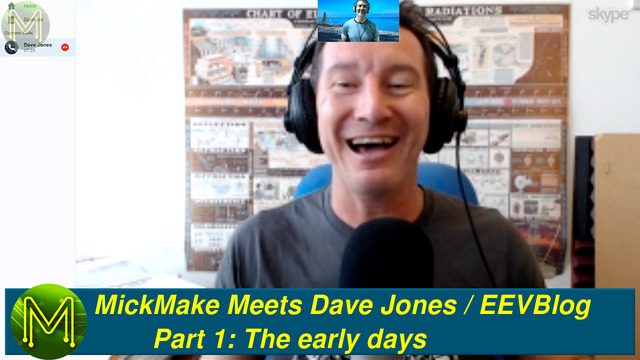 When you think of "electronics" and "YouTube" then Dave Jones has to be in the top list. For the 10,842th subscriber celebration on MickMake, what better way to celebrate than to interview this legend.
In the first part of this interview, we discuss his early days in electronics.
Pulling things apart.
Dave's never-ending project list, aka "finishing projects".
Trying to squash the impossible bug.
Solving bizarre electronics faults.
Dave's Golden Rules
Why is he so scared of high voltages?
---
In Part 2 we look at his YouTube years.
Sharing stuff.
His Podcast show - The Amp Hour.
How he accidently discovered YouTube fame.
Embarrassing moments on YouTube.
His "Publish and be damned" YouTube philosphy.
Filming frustration.
His best scam whistle blowing.
Advice to new YouTubers.
His surprise at how there's a market for everything.
Is YouTube untouchable?
---
Part 3 we discuss the Maker Movement and it's potential impact on industry.
The rebirth of Hobby Electronics and the Maker Movement.
His opinion on China's "Just In Time Manufacturing" philosphy vs desktop fabrication.
The differences between Makerspaces and "Men's sheds".
Do we need to go to Makerspaces?
Social introverts and hobbies.
---
In Part 4 we look at the cost of being a YouTuber.
Why he would never work for "the man" again.
His jealousy of other YouTube channels.
His YouTube "salary" video - can you survive on YouTube alone?
Living on the edge as a YouTuber.
---